With hundreds of species of various colors and sizes, cichlids represent a popular fish for hobbyists to keep but they provide many unique challenges, including finding a nutritious food choice for the stunning color, health and growth.
(Read on to find out how you can spot the difference between a cheaply-made, non-nutritious food versus the healthiest options on the market.)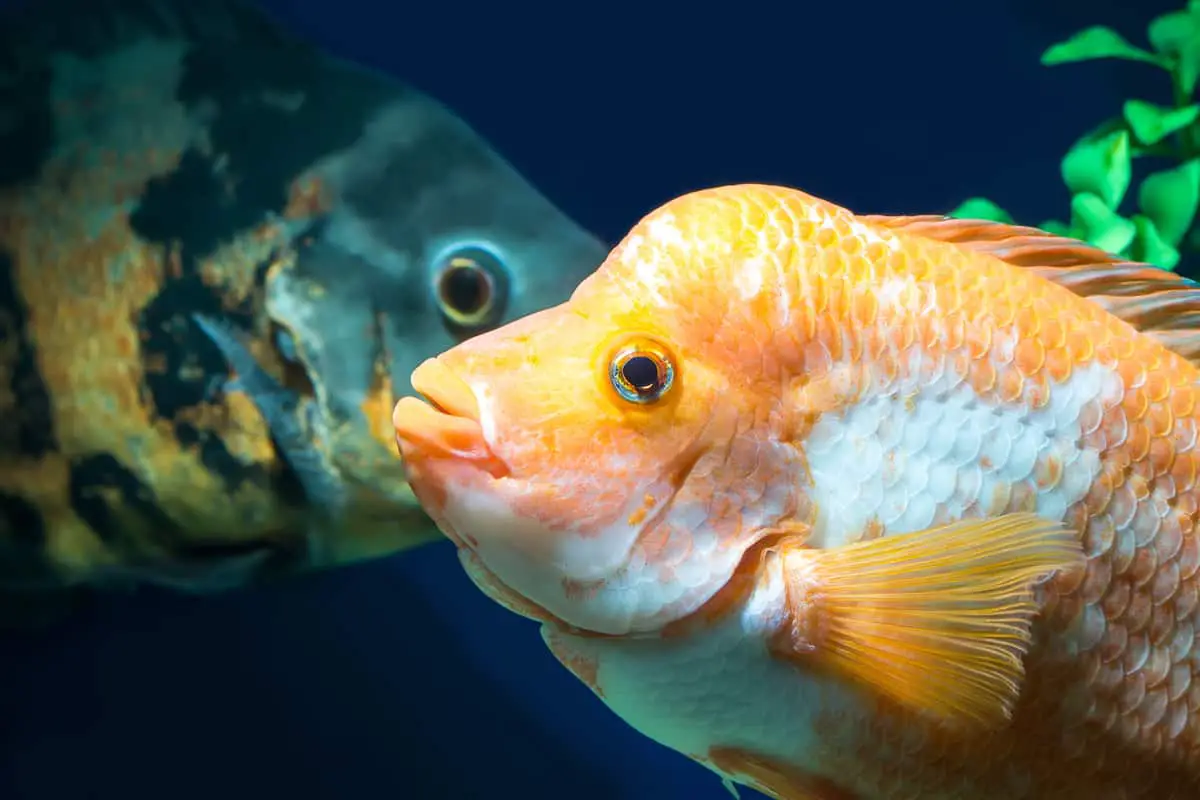 What follows is a closer look at cichlid food and dietary needs as well as six of the best options that you should consider if you plan to keep these fish:
Winner
Sustainable Insect Based
Omega One Super Color Sinking Cichlid Pellets, 2mm Small Pellets, 16.25 oz
Fluval Bug Bites Cichlid Fish Food, Pellets for Medium to Large Sized Fish, 3.53 oz., A6581
Hikari 8.8-Ounce Cichlid Gold Floating Pellets for Pets, Large [2-Pack[
Northfin Food Veggie Formula 2Mm Pellet 250 Gram Package
Omega One Veggie Rounds, 14mm Rounds, Sinking, 8 Oz Container
New Life Spectrum Cichlid Formula 1mm Sinking Freshwater Pet Food, 500gm
Sustainable Insect Based
Fluval Bug Bites Cichlid Fish Food, Pellets for Medium to Large Sized Fish, 3.53 oz., A6581
Omega One Veggie Rounds, 14mm Rounds, Sinking, 8 Oz Container
New Life Spectrum Cichlid Formula 1mm Sinking Freshwater Pet Food, 500gm
Fluval Bug Bites Pellets for Cichlids
Omega One Super Color Cichlid Pellets
Hikari Cichlid Gold Floating Pellets
Northfin Food Veggie Formula
Omega One Veggie Rounds
New Life Spectrum Cichlid Formula
Best Cichlid Foods
Identifying Your Cichlids Diet
Enthusiasts that are new to keeping cichlids may be surprised to learn that cichlids have a variety of requirements for the nutrient source of their diet, depending upon the species.
The first step in determining the best cichlid food for your pets is to determine their preferred natural food source. Each species can be broken down into one of three categories:
Carnivores: receive their calories and energy from animal tissue. They will require a fish food that is animal-based.
Herbivores: obtain the nutrients that they need from plants. These types of cichlids will require a fish food that is plant-based.
Omnivores: have a diet that varies between animal and plant nutrients. This type of cichlid will benefit from foods made from either source.
Determining the diet type of various cichlids can be researched. Something that is beneficial to a carnivore may not offer much to your herbivore cichlids so it is essential that you do some research beforehand.
How to Find a Good Food
Many of the fish foods available on the pet market contain a high percentage of fiber. The foods designed for cichlid species will usually contain less fiber and more proteins. These specially designed foods will also provide your cichlids with additional nutrients that will allow them to grow faster and live healthier lives.
We will show you the best foods on the market soon, but here is a quick checklist for you to quickly spot the best types…
A good cichlid food will provide nutrients based on a species' preferred food source. As mentioned above, the cichlids in your tank may be carnivores, herbivores, or omnivores. A properly sourced food will entice the fish to eat.
Additional nutrient content will also be found in good fish foods for cichlids. This can include sources such as omega-3 fatty acids that will increase energy levels as well as growth. These added nutrients can be critical for cichlids in a tank environment because they are offered food only a few times each day.
Another benefit of a good cichlid food will be the addition of color enhancers. These sources will usually be listed as pigments. They are included to help bring out and maintain the colors of your fish.
A proper cichlid food will avoid high concentrations of salt. Even species originating from brackish waters can suffer from intestinal issues from too much salt.
Remember That Variety is Important
While each species may show a preference for a particular source of food, it is important to remember that variety can be essential for a healthy diet. Some of the better cichlid foods out there will add variety to each product. If the food that you select is very specific in its contents, do not hesitate to supplement an occasional feeding with foods from different sources. This can be especially critical for species that are omnivores.
How Often Should You Feed Cichlids?
In the wild, cichlids will eat whenever the opportunity presents itself. In your aquarium, you want to feed your fish two or three times each day.
This habit will allow them to maintain a healthy metabolism while breaking the feeding times into blocks that can better simulate natural conditions. Offer them enough food that they consume in two minutes or less without leaving leftovers in the water column.
Some food, such as pellets, can expand when they get wet. You may want to soak these foods beforehand to prevent bloating. This shows how much fish pellets can swell after they are soaked in water.

What else to look out for
The research that you do will show you just how varied cichlid diets can be. Fish food for cichlids can be very specific, so keep in mind that natural food sources for "Old World" (East African) cichlids will be different than sources for "New World" (South American) cichlids.
The professional breeders at Nembwe suggest that you avoid feeding your cichlids things such as beef heart, as they cannot absorb the fats from warm-blooded animals. Try to confirm sources for blood or tubifex worms to avoid potential diseases as well.
Cichlids are known in the fish keeping hobby as aggressive aquarium residents. In the confinement of a tank, well-established territories and frontal displays can contribute to agitation during feeding. One way to reduce aggressive behaviors is to make sure that your fish are well fed. Properly nourished cichlids are less likely to become over-agitated during their feeding times.
Cichlid Food Reviews
Fluval Bug Bites Pellets for Cichlids
A carnivore friendly insect-based formula processed from a sustainable source.
Fluval has created this formula by using an animal protein source that is natural for all fish. In the wild, various insects provide cichlids with the nutrients that they require. The larvae that are used make up to 40-percent of the contents of each pellet.
The Black Soldier Fly larvae are raised on natural fruit and vegetables.
The company states that they selected this species of larvae as it is known for its high nutritional values. The whole salmon is boosted with fish proteins to provide high doses of omega-3 and omega-6 fatty acids.
The ash used for a mineral source can also be considered an alkaline as well.
Green peas, potatoes, and wheat are also added and help to raise the crude fiber content of every Bug Bite pellet to nearly five percent.
Pros
The animal-based proteins are made from a highly sustainable source
A higher moisture content will mean less swelling in water
Cons
The product is not designed for juvenille or small cichlid species
Check Amazon For The Latest Price
Omega One Super Color Cichlid Pellets
A fast sinking pellet food for carnivorous and omnivorous cichlids.
This product is sourced from a variety of fish that include salmon, halibut, krill, rockfish, and shrimp. These sources give this product high levels of omega-3 and omega-6 fatty acids for improved immunity.
A minimum crude protein level of 41-percent provides a high level of nourishment with each pellet.
The whole salmon provides an excellent source for natural beta carotenes. This addition to the pellets will help to sustain vibrant colors in your cichlids. Kelp is also used, providing each pellet with natural minerals and vitamins for increased health.
The lack of the word "whole" with halibut indicates that this content is processed from leftovers.
Using krill helps to distinguish this product as a "color" pellet, providing extra color enhancement for your fish. These pellets do appear larger than other "small" pellets offered by others, contributing perhaps to their faster sinking.
Pros
Uses whole salmon and not just leftover parts
Ingredients give this a high protein content level
Cons
Fast sinking pellets may not be ideal for top feeders
Check Amazon For The Latest Price
Hikari Cichlid Gold Floating Pellets
Floating pellets designed for carnivorous cichlids feeding at the surface.
These pellets are designed to stay at the surface of the water, making them a great choice for top-feeders in your fish tank. They are able to hold form, even after a good soak in water. This feature helps to keep the tank clean and helps to prevent the water from becoming discolored.
The high levels of protein should prove more than adequate for your meat-eating fish.
High content levels of carotene and NS germ provide cichlids with good color enhancement, a feature that should help to prevent cichlids from looking dull or washed-out. Extra vitamins should also promote healthier fish.
Finicky eaters may play with these floaters more than eat them.
With less than four-percent crude fiber for each pellet, this will be a poor food source for herbivores. Removing the salt content would improve the quality as well.
Pros
These floating pellets allow for easy consumption tracking
Pellets should not cloud the water column in the aquarium
Cons
Some cichlid species may struggle with eating these pellets
Check Amazon For The Latest Price
Northfin Food Veggie Formula
Natural ingredients designed to meet a herbivorous cichlid's dietary needs.
A selection of organic plants is used to provide the crude fiber of this formula, including kelp and spirulina. These sources are able to deliver a high level of natural minerals and nutrients.
The 2 mm sized pellets are easy for most cichlids to eat from.
Whole krill and sardine are processed into meal, along with herring meal, provide omega-3 fatty acids to offer your cichlids a balanced food source. The animal and plant sources provide vitamins B12, C, D, and D3. This will boost fish immunity and provide a greater overall health boost.
The zip-lock seal on the package can be hard to align during closing.
A lack of bi-products and fillers is a feature that allows the cichlids to use more of each pellet and reduces fish waste. Northfin offers this product in many bag sizes.
Pros
Advertised as bi-product, filler, and artificial pigment free
Uses a variety of plants to supply nutrients for herbivores
Cons
The pellets may have a tendency to sink quickly compared to some products
Check Amazon For The Latest Price
Omega One Veggie Rounds
Wafers designed to provide high plant-based nutrients for your cichlids.
The major design feature for the wafer is to provide feeding over time. Omega One has created a product that can last hours in the water before it needs to be removed. This will help to prevent a messy water column. They are soft enough that your fish should not struggle while trying to eat them.
These disks are designed to leave in the water for up to four hours, providing food for extended durations.
Each wafer is made from kelp that is hand harvested from Alaskan waters. This kelp provides a great source of nutrients for herbivorous cichlids. The addition of spirulina and whole salmon helps to ensure a well-balanced product.
Feeding can become messy if you have to remove uneaten disk pieces after four hours.
Omega-3 and omega-6 fatty acids help to provide immunity and energy that fish need.
Pros
Ocean kelp provides a lot of plant-based nutrients
These wafers use far less unwanted materials such as wheat
Cons
A submerged disk can pollute the water column after a few hours
Check Amazon For The Latest Price
New Life Spectrum Cichlid Formula
Small sinking pellets with high fiber for herbivorous cichlid fish.
These pellets are designed to sink, making them a fantastic choice for cichlids who feed in the middle and lower portions of your fish tank. The formula contains nutrients from a multitude of animal and plant sources that omnivores would appreciate.
The pellets are only 1 mm in size, making them easy for cichlids to eat.
With that being said, the kelp and other plant sources help to provide a higher crude fiber content to this food, making it a better source of nutrients for herbivorous cichlid species. Spirulina appears in the list of ingredients and is known as a highly beneficial plant-sourced nutrient as well.
Unfortunately, this product is only offered in a 500-gram canister.
A smaller pellet size will allow your fish to feed on this product without a struggle, but caution should be used to prevent overfeeding and pollution.
Pros
The pellets contain many different vitamins to promote health
Product does not contain artificial colors or hormones
Cons
Uneaten pellets are small enough to work into the substrate
Check Amazon For The Latest Price
The Winner
The cichlid food products reviewed above represent highly rated cichlid foods, all of which could provide the nutrients your fish would need. We do feel that the Omega One products provide the best diets for cichlids, however. The Omega One Super Color Cichlid Pellets stand out as the best product.
Omega One Super Color Sinking Cichlid Pellets, 2mm Small Pellets, 16.25 oz
IDEAL BALANCE: Omega One Floating Cichlid Pellets are formulated with a variety of fresh seafoods, ocean kelp, and spirulina to address the opportunistic dietary needs of cichlids
KEEP A CLEANER TANK: Our Floating Cichlid Pellets are naturally insoluble, which reduces water pollution, and they have significantly less starch, which reduces fish waste
SUPERIOR QUALITY: No meals, hydrolysates, digests, or any other pre-processed protein
INSTRUCTIONS: Feed 1-3 times daily, using only as much food as fish can consume in two minutes
GUARANTEED ANALYSIS: Min Crude Protein 42% / Min Crude Fat 11% / Max Crude Fiber 2% / Max Moisture 8.5% / Max Ash 8%
While it is a fast sinking pellet, it does provide food at all levels of the tank. The high concentrations of animal proteins make it ideal for cichlids with a meat-based diet. Additional kelp is added that provides some plant fiber to make this a balanced food source.
Krill and whole salmon provide natural sources of color enhancement, keeping cichlids vibrant. A smaller pellet size allows this food to be accessed by a larger variety of fish as well.
We also want to mention the Northfin Food Veggie Formula Pellets for the herbivore and omnivore cichlids.
Northfin offers such a high quality of food for fish and this cichlid formula is no different. Bi-product free, filler free and artificial pigment free with no added Hormones.
Made with organic kelp and 100% natural color enhancers – your cichlids will shine!