Discus are beautiful fish, and a clear water column will allow viewers to see the multitude of colors that these fish display. They are known to produce a lot of waste and to kick up the substrate, so selecting the best filter is important.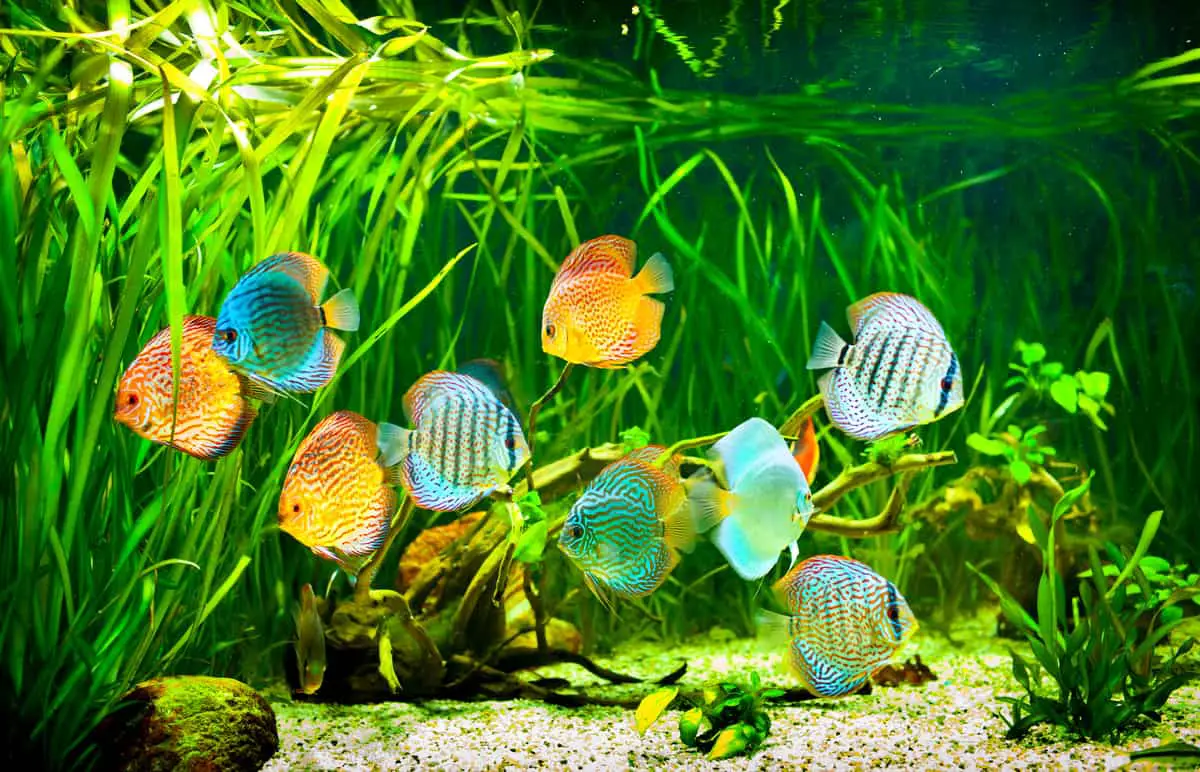 This article will look closer at discus filter requirements as well as review the following aquarium filter products:
Winner
Fluval Canister Filter for Aquariums - 406 - 100 Gallon
AquaClear, Fish Tank Filter, 40 to 70 Gallons, 110v, A615A1
Huijukon Aquarium Filter Sponge Air Driven Sponge Filter Betta Shrimp Breeder Fish Fry Filter (Filter)
Marineland Emperor 400 Pro Series Bio-wheel Power Filter - Up to 80 gallon, Rite Size "E"
Hydor Professional External Canister Filter – Aquarium External Filter – Telescopic Intake Tubes, Easy Priming – EcoSystem in a Box – Biological, Mechanical, Chemical Filtration – 190 to 345 gph
Winner
Fluval Canister Filter for Aquariums - 406 - 100 Gallon
Huijukon Aquarium Filter Sponge Air Driven Sponge Filter Betta Shrimp Breeder Fish Fry Filter (Filter)
Marineland Emperor 400 Pro Series Bio-wheel Power Filter - Up to 80 gallon, Rite Size "E"
Fluval 406 External Filter
Aqua Clear Power Filter 70
Huijukon Double Super Biochemical Sponge Filter
MarineLand Emperor 400B Filter System
Hydor 600 Professional External Canister Filter
Discus Fish And Their Filtration Needs
Larger Tanks Mean Larger Flow Rates
Discus fish can grow to eight inches in length as adults, so they will need larger accommodations.
Small fish that are still young can be housed in fish tanks that range from 30 to 50-gallons in size. Adult discus will require at least a 50-gallon aquarium, preferably larger. The filter you choose should be able to cycle more water than the fish tank holds.
Manufacturers list ratings for their filter products, but this number usually reflects maximum output in optimal conditions. Filters operating in an aquarium full of debris, decorations, and fish will rarely operate at peak ratings. The added elements influence the operating power of the filter, so most fish keepers will look for a filter that can cycle the entire tank's water column at least twice each hour (but four times is advised).
Discus will also cause a filter to work harder. These fish produce a lot more waste than some species and will need a filter that can handle the additional workload.
Plus, discus fish are notorious for agitating any substrate found in the fish tank, causing smaller bits of debris to kick up into the water. These factors should be considered when looking into a filter for a discus aquarium, and the filter should have a flow rate that is at least 4 times the total volume of the aquarium.
Filter Media Types Are Important
Chemical filtration can be beneficial for almost all aquariums, but a discus owner must be careful when using them. This species requires a more specific water quality, and any chemical filtration used must not alter the water's PH levels outside of established parameters.
Biological filtration is important for discus. These fish produce a lot of waste that will require healthy and large beneficial bacteria colonies. Avoid biological cartridges if possible and use porous bagged media or sponges if possible. These materials support large bacteria colonies and can hold them for long periods of time before they must be replaced.
Mechanical filtration is also critical for a discus aquarium. These fish will stir up large amounts of debris that will suspend itself in the water column. Look for filters with options for more than one layer of mechanical filtration. With sponge materials, make sure that it won't alter the water chemistry and is easily accessible.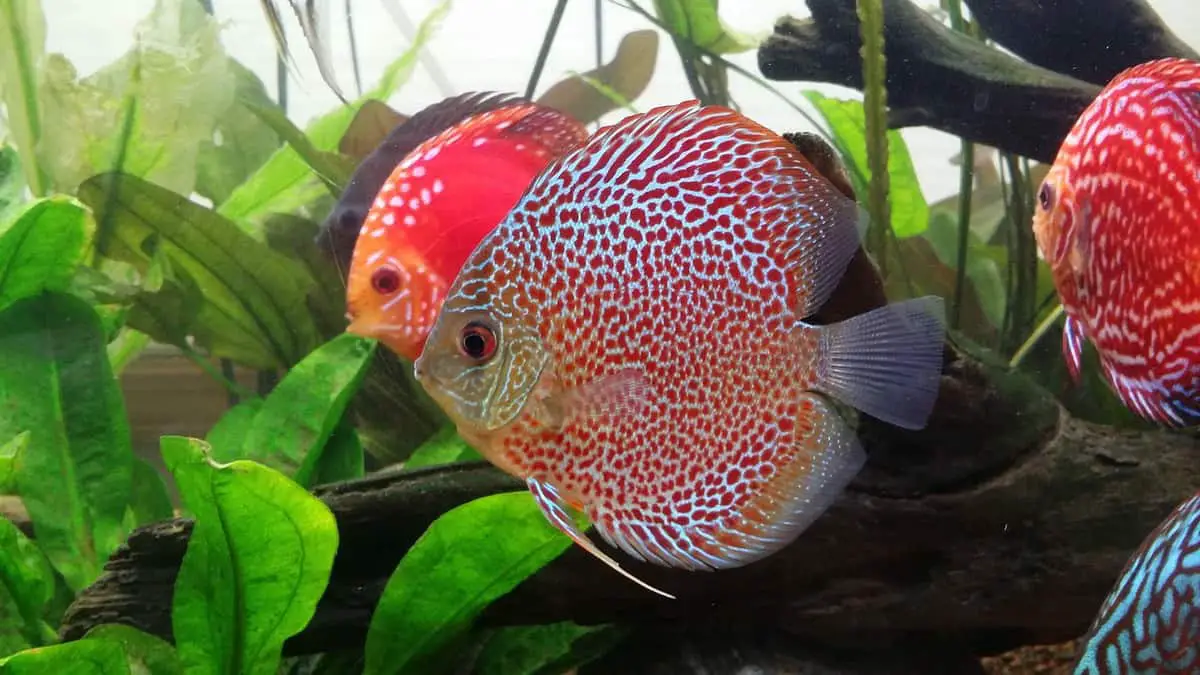 What Filters Work Well With Discus? (And Which Don't)
Many discus owners love to use sponge filters. They create softer currents and can be used for partial cover if properly placed. The sponge provides an excellent home for bacteria to grow and thrive in, and the pores are small enough to trap debris as a mechanical filter. These filters do not offer much chemical filtration options, however.
Hang On Back (HOB) filters are another popular choice among discus fans. Spillways or spray bars keep the water current at a reasonable level as the water returns to the fish tank. This type of filter will often provide room for a variety of media materials, allowing users to provide all three types of filtration. Keep in mind that some HOB filters are designed to use filter cartridges that can become clogged or will require replacement (that can be an issue for maintaining biological filtration levels).
Canister filters also work great for discus tanks. Many canisters are designed to hold large amounts of media, and the pressurized water forces the media as it flows. Canisters are capable of handling large volumes of water, which makes them a good fit for larger discus aquariums. These filters employ all three types of filtration media.
Underground gravel filters should be avoided. Many discus keepers do not use substrate materials, which are required for the under-gravel filter to work properly. Even if the fish keeper uses substrate, discus will disturb it and limit its biological and mechanical functions.
Other Features To Look For
The room required may influence the possible locations a filter can be placed, which may determine the type of filter to buy. External filters need room for placement on or under the tank, while internal filters will take up space in the water. Some filters will require extra equipment, such as an air pump, in order to work.
It is important to consider how easy the filter is to clean and maintain, and features that aid with this are a plus. Extra filtering features like strainers can also prove beneficial in a discus aquarium.
Filter Reviews
Fluval 406 External Filter
Provides powerful three-stage filtration for the tank's entire water column.
At 383 gallons per hour, this canister can operate on aquariums up to 100-gallons effectively.
The water remains pressurized as it pushes it through the various filter media.
An intake strainer helps to prevent larger debris from clogging the media, and the housing is able to hold up to 40-percent more volume of various media types.
This canister filter will come at a high price point than other filter designs will.
An Aqua-Stop valve allows users to stop water flow without disconnecting the hoses. It comes with four media baskets for a greater selection.
Pros
A sound dampening impeller provides little noise during operation
It is made from high-quality materials that should provide durability
This filter comes with a three-year warranty from Fluval
Cons
Ribbed hose sections can collect smaller debris and prove harder to clean out
It will produce a stronger water current without a spray bar
Check Amazon For The Latest Price
Aqua Clear Power Filter 70
A good low-current option that provides gentle water column circulation.
The 300-gallon per hour flow rate on this HOB filter should be a good choice for discus tanks ranging from 40 to 70 gallons.
The media compartment is large and will allow users to mix or match the media.
A bottom-up filter design helps to ensure that all water passes through the filter media. It will allow a user to mix media types to provide all three types of filtration.
The instructions that are included may seem a bit confusing.
A patented re-filtration design also increase the amount of time the water column spends inside of the media compartment.
Pros
Its pump motor runs silently during operation
The filter compartment can hold up to seven times the media
This product comes with a two-year warranty
Cons
The proprietary media bags come at a higher price point
This filter's propeller box may trap debris and require more maintenance
Check Amazon For The Latest Price
Huijukon Double Super Biochemical Sponge Filter
A budget-friendly filter option for a smaller discus fish tank.
With a flow rate of over 100-gallons per hour, this sponge filter will effectively clean tanks up to 35-gallons.
The tube for water flow exiting is adjustable to the tank's depth.
It attaches to the interior tank wall with suction cups and will operate quietly. The sponge is made from food-grade materials that should not alter the water column chemistry. The dual sponges are a nice touch that may not clog as quickly as a single sponge would.
This product runs on air and will require a separate air-pump to operate.
The pours are small enough to keep debris out and good bacteria within the filter.
Pros
This internal tank filter runs silently
It provides safe filtering for baby discus fish
Cleaning and maintenance are fast and simple
Cons
It does not provide adequate chemical filtration
The tank may be disturbed during maintenance depending upon location
Check Amazon For The Latest Price
MarineLand Emperor 400B Filter System
The Emperor 400B provides top-quality biological filtration for the aquarium.
This HOB filter can circulate at 400-gallons per hour, a range that will work well for tanks up to 80-gallons.
A second intake located in the middle of the housing helps the entire water column to circulate.
This product is built with a two-pump design as well as four separate media pad slots. These features will allow full water clean-up with biological, chemical, and mechanical filtration.
This filter can become a bit noisy without regular maintenance.
The second pump sprays water onto the bio-wheels that turn with the water flow. This should provide water aeration as well.
Pros
The bio-wheel should provide great housing for good bacteria
It includes four pad slots that can provide maximum filtration
This filter's flow rate is adjustable
Cons
The spray bar can become clogged and will require more attention
This filter will require more maintenance due to the bio-wheel moving parts
Check Amazon For The Latest Price
Hydor 600 Professional External Canister Filter
Provides a quality three-stage filtering for water in larger aquariums.
While this canister is rated at 345-gallons per hour, its powerful filtration should work effectively on tanks up to 150-gallons.
The no-bypass design allows the entire water column to be filtered with each cycle.
A telescoping intake and adjustable spray bar allow the accessories to fit a multitude of fish tanks. An easy priming feature allows for quick start-ups.
Finding replacement parts could prove hard and will take time.
It is easy to set-up and to use while providing complete biological, chemical, and mechanical water filtration.
Pros
Its rectangular shape provides room for a lot of filter media
The pump on this filter is easy to prime at start-up
An adjustable spray bar will fit a variety of tank dimensions
Cons
Cleaning and other maintenance may be messy due to the filter design
Its rectangular shape and size take up more room than other canisters will
Check Amazon For The Latest Price
The Winner
Fluval Canister Filter for Aquariums - 406 - 100 Gallon
Multi stage filtration for healthy fresh & saltwater aquariums
Suitable for aquariums up to 100 gallons. Flow Rate: 1450 LPH (383 US GPH)
Sound dampening impeller design for a quieter operation. The Fluval 406 Canister Filter has a unique square shaped canister design that holds 35 to 50 percent more water than round canister filters of similar size allowing better water flow through a complex cleansing path that maximizes contact with the filtration media
Equipped with a clog proof intake strainer and a dual layer foam screen. To prevent water from dripping onto the receptacle or plug,a "drip loop" should be arranged by the user in the cord connecting appliance to a receptacle
Built with a patented Aqua stop Valve, multiple filtration baskets, and rim connector assemblies; 3 year warranty.Media Capacity: 8.5 L
Each of the five filters reviewed above can provide proper filtration for your discus tank. While the features you will require depend upon the aquarium's specifics, we feel that the Fluval 406 External Filter provides the best all-around water filtration.
A 383-gallon per hour flow rate should keep up with active and messy discus in tanks up to 100-gallons. Four filter media stages allow the user to customize the materials to a tank's unique needs, and it also comes with an intake strainer to prevent large debris from creating unwanted clogs.
The canister filter keeps the water pressurized, forcing the entire water column through the media for maximum contact. The canister body has been designed with a square shape that allows it to hold a lot more filter media than a cylinder canister shape would be able to. An Aqua-Stop valve design allows the flow to be interrupted without having to disconnect the hoses first, and the clamps hold the canister together without leaking. While the filter doesn't come with a spray bar, it is made from quality components and a three-year warranty for the price.
The Fluval 406 will provide you with clear viewing!