Everybody knows that good filtration and clean water is critical in an aquarium. However, there is plenty to think about when looking for the best filter for a flowerhorn tank.
These cichlid fish are large and energetic with plenty of behaviors that can mean certain options will be a bad choice. We will ensure that these mistakes are not made…
In this article, we will help you understand why some designs work better than others. We also will review the following awesome filters to get you ahead of the curve:
Winner
Fluval FX6 High Performance Aquarium Filter, Canister Filter for Aquariums up to 400 Gal.
Polar Aurora Free Media 265GPH / 370GPH / 525GPH External Aquarium Filter with Builtin Pump Kit Canister (370GPH)
Eheim Classic External Canister Filter 2215
AquaClear 110 Power Filter, Fish Tank Filter for 60- to 110-Gallon Aquariums
Marineland Emperor 400 Pro Series Bio-wheel Power Filter - Up to 80 gallon, Rite Size "E"
Winner
Fluval FX6 High Performance Aquarium Filter, Canister Filter for Aquariums up to 400 Gal.
Polar Aurora Free Media 265GPH / 370GPH / 525GPH External Aquarium Filter with Builtin Pump Kit Canister (370GPH)
Eheim Classic External Canister Filter 2215
Marineland Emperor 400 Pro Series Bio-wheel Power Filter - Up to 80 gallon, Rite Size "E"
Eheim Classic External Canister Filter
Aqua Clear Power Filter 110
Fluval FX6 Canister Filter
MarineLand Emperor 400 Filter
Polar Aurora 3-stage External Canister Filter
Flowerhorn Cichlid Filter Needs
There are a few unique points to consider before selecting a good filter for your Flowerhorns, based on the fish themselves as well as the aquarium.
How a Flowerhorn's tank size influences your filter
One of the things that probably interested you in Flowerhorns in the first place is their size. They are a large-bodied cichlid hybrid, with mature fish reaching from 12 to 16 inches in length. Many aquarium owners would suggest that you maintain your Flowerhorn in a 55-gallon tank at minimum.
Filtration will require that your equipment can handle larger volumes of water. Most filter products will list a recommended tank size (listed in gallons) that the equipment is designed to handle. This will be stated on the outside packaging or in an online description.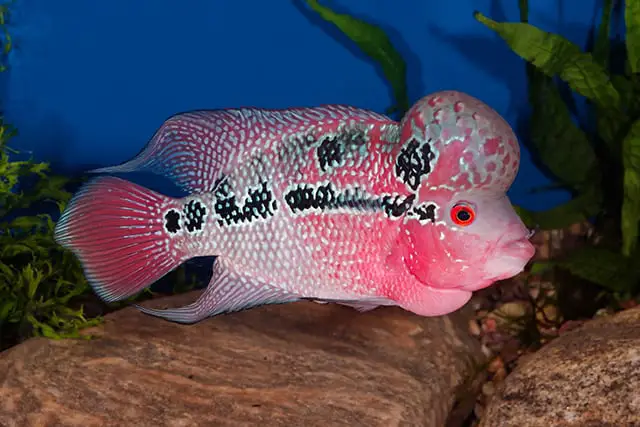 Your Flowerhorn will require greater cycling from a filter
No matter what of equipment you get, it will filter more water in an hour than the aquarium gallons it is rated for. For example: A unit recommended for a 55-gallon tank may filter over 150-gallons of water each hour. This information will also be listed on the box and in online descriptions.
The hourly flow rate for a particular filter will depend upon what type it is, as well as the manufacturer's design. So, what hourly flow rate should you shop for?
A good rule to follow for your Flowerhorn aquarium: Tank filtration should be between four and five times the size of your tank each hour.
There are reasons these fish need such high volumes of water cycled. They are aggressive fish who are messy eaters as well as active diggers into substrates. With mature specimens reaching a foot in length or more they will also generate lots of waste products.
Flowerhorn cichlids do well with moderate water flow
These large cichlids are active and thrive with moderate (water flow) in their environment. Higher flow rates help to push debris and waste towards the filter. They also help to keep water circulating properly with equipment that is placed outside of the tank with multiple bends in tubing that cause resistance.
How the inside of your tank will influence filter selection
These highly aggressive fish won't just bite you when you feed them by hand or clean the tank, they will make a mess out of the interior. You won't have to worry about keeping live plants with this species as they will destroy them. They will also shift anything that isn't too heavy to move!
Due to their aggressiveness and size, internal filters are not recommended. These filter types are usually rooted in the substrate or suction-cupped to interior walls. Disturbed substrates may tip these devices over while constant bumping and exploration can detach mounting cups.
Gravel is the go-to substrate for most Flowerhorn keepers, and their pets love to dig into it. This can make under gravel filters a less desirable choice as well. The constant shifting and redistribution of the gravel will make it a less-effective biological filter as the plastic grid becomes exposed.
Due to these considerations, we suggest that you invest in external filter designs for your Flowerhorn cichlid aquarium.
External filtration systems
Fortunately, many external filter designs are capable of generating the water flow rates needed by these fish. Another advantage for Flowerhorn keepers is that they won't have to reach into the tank for cleaning or maintenance which agitates their fish and makes them attack your arms and hands. Finally, external filters often hold more media and are considered more versatile.
Two filter designs stand-out as great external systems that are beginner friendly:
Canister filters use a pump to force water into a pressurized container that contains the media. Clean water is then returned to the tank, usually by a spray bar.
Power filters or "Hang-on-Back" filters use a pump to pull water from the tank and across the media before returning it your aquarium through a spillway or spray bar.
Types of filtration
Filtration is accomplished through biological, chemical, and/or mechanical means. Of the three, chemical filtration is the least important in a Flowerhorn's tank, as this species is hardy and can handle a wider range of water chemistry. Biological and mechanical filtration is critical to keeping their tank clean, however. Your filter selection should ideally be able to provide you with both.
Reviews of Five Filters for Flowerhorn Aquariums
Eheim Classic External Canister Filter
A time-tested design for use on small Flowerhorn cichlid tanks.
This "classic" design has been used all over the fish keeping world since the 1980s, giving it a proven track record in the market. Its simple design means that there are fewer components in the build, which can mean fewer parts breaking on it.
The cylinder shape takes up less room on the shelving it sits upon.
This cylinder stands a bit taller than some, allowing it to hold adequate amounts of media even within its thin frame. It uses durable O-rings along the top of the canister, helping to keep it sealed during operations.
This classic build does not keep media completely separate.
It delivers water with a moderate flow rate, even when placed above the aquarium (with a 5'11" height rating). The valves included are designed for North American markets.
Pros
The simple design is easy to use
A lack of extra features means low power consumption
Comes with tubing and spray bar
Cons
Only cycles 164-gallons per hour
Older design does not offer many features
Check Amazon For The Latest Price
Aqua Clear Power Filter 110
A roomy HoB external filter design for your Flowerhorn Aquarium.
Not only does the 110 offer plenty of room for filter media, but it also comes with a re-filtration design that helps to provide longer contact between the media and your tank's water column.
Its filter compartment is spacious and can accommodate almost any type of biological or mechanical media you wish to use in it.
This filter is made from durable plastics as well as high-grade metal parts that should last the life of the filter. While it will produce some noise, the 110 power filter does not generate vibrations that often travel through the aquarium glass.
Flowerhorn keepers who use sand substrates in their aquariums may find it decreasing the effectiveness of this unit.
Cleaning or replacing media is simple with the large compartment. This product is also covered by a two-year warranty.
Pros
Can cycle 500-gallons each hour
Can hold lots of filter media
Uses both biological and mechanical filtration
Cons
A bit noisier than other designs
Requires monitoring and adjustment to avoid overflows
Check Amazon For The Latest Price
Fluval FX6 Canister Filter
Pressurized cleaning increases multi-stage filtering in this canister aquarium filter.
While the FX6 is bulkier than other canisters, it offers more room for media. Multiple baskets allow you to stack filter media in any order you wish. These baskets can help keep media bags separated during filtering.
Electronic monitoring helps to keep this filter running efficiently.
The motor is designed to run quietly and uses 10-percent less electricity than previous models, making it more energy friendly than similar products. Telescoping tubing and adjustable joints help to prevent kinks.
The ribbed sections of tubing can allow debris to build up a bit.
Its multi-directional output allows you to adjust the water pattern as it returns to the tank while dispersing across the surface at different points. Aqua stop valves allow you to stop water flow without having to disassemble the unit.
Pros
The intake tubing is adjustable
Aqua-valves make cleaning and maintenance less messy
This product is highly durable
Cons
It is a bit larger than other units with similar power
This filter comes at a higher price point
Check Amazon For The Latest Price
MarineLand Emperor 400 Filter
Strong biological filtration and water aeration offered all at once.
This filter might be ideal for smaller 55-gallon Flowerhorn tanks with its 400-gallon per hour flow rating. It is designed to offer biological, chemical, and mechanical filtration. Even with the moving wheels, this equipment does not generate much noise.
Its bio-wheel design provides plenty of surfaces for bacteria to grow on.
MarineLand has designed this unit with a two pump system. One pulls water from the fish tank into the filter, while a second pump draws water into the spray bar for return into your aquarium. This should help generate a moderate water flow along the top of the column.
The build can make it a bit more difficult to clean than other HoB filters.
It is also important to keep the wheels clean to ensure movement.
Pros
Offers excellent water aeration through wheels
Its water flow rate is adjustable
Four pads help to filter all water passing through it
Cons
Bio-wheels may stop moving if spray bar becomes blocked
This filter might start making more noise over time
Check Amazon For The Latest Price
Polar Aurora 3-stage External Canister Filter
Multi-stage filtration and UV sterilization for small Flowerhorn cichlid tanks.
This unit from Polar Aurora is designed to be an all-in-one package that can offer convenience when first setting up a fish tank. It comes with three media baskets and the materials to start your filtering with. An additional feature is the UV light that can your water cleaning to the next level.
The price point puts it in the budget range of most beginning fish keepers.
It also includes a spray bar that can adjust to the size of the tank, making it more versatile. Extra hose and installation accessories are also included.
Its UV light could be unnecessary for your Flowerhorn aquarium.
The impeller is designed to run quietly, and the top exhaust vent should help keep this filter running efficiently while prolonging the life of the unit.
Pros
Includes UV lighting for removing bacterias and algae
It has three media baskets to keep filter media stacked separately
The spray bar is adjustable
Cons
Best suited for 55-75 gallon aquariums
Filter baskets feel flimsy
Check Amazon For The Latest Price
Our Conclusions
All of the products reviewed above can provide great filtering, but the Fluval FX6 Canister Filter stands-out as the best filter for Flowerhorn cichlid aquariums. It has a flow rate of 563-gallons per hour, allowing it to multi-cycle water columns in most beginner Flowerhorn tanks.
With the pressurized water in the canister, it is capable of generating the flow rate that this species of fish enjoy. That flow will also keep debris moving towards the intake to be cleaned.
A roomy interior allows it to hold up to 1.5-gallons of filter media. The multiple baskets allow you to keep this material separate so that you can layer it as you wish. That feature can keep mechanical media up front to catch larger debris before it moves into finer materials used for chemical and biological filtration.
Finally, this product allows you to use all three types of filtration!